The ONLY firm
that will fight
for YOU
"Richard Fonbuena was excellent, he came through for us. We are grateful."


Comprehensive Overview of Las Vegas Scooter Laws & Regulations
Understanding Las Vegas scooter laws is critical if you have been injured in an accident involving a motorized scooter. Get the facts here.
Basics of Las Vegas Scooter Laws
Moped riders in Las Vegas, Nevada, are subject to moped laws meant to keep everyone on the roads safe. Since a moped is ridden on the roads just like a motor vehicle, even if it is not one, it is subject to many rules and regulations just like a regular motor vehicle.
Nonetheless, a moped does not have to adhere to some regulations, such as having to purchase liability insurance. According to the law in Nevada, mopeds are defined as motor-driven scooters that look like a bicycle and are propelled by a small engine.
Distinguishing elements of the moped include:
An engine that produces two or less in gross brake horsepower, not more than 50 cubic centimeters, and no more than 1500 watts in the final output.
Made to travel on no more than three wheels but is not a tractor; and
It comes with a maximum speed no greater than 30 miles an hour on flat surfaces no greater than 1 percent incline in any direction once the engine is engaged.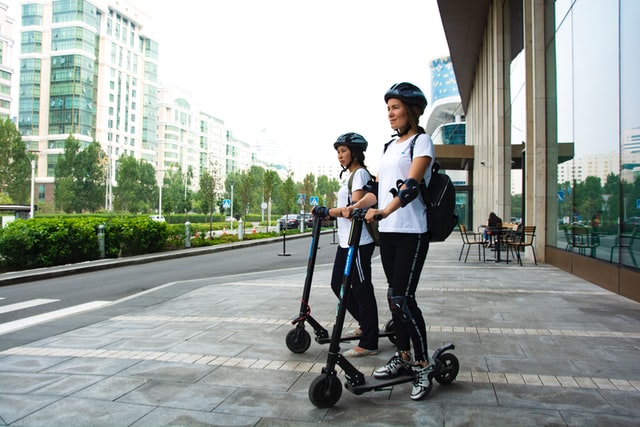 Additionally, any moped in the Las Vegas area needs to have nearly all the proper safety equipment required in a motorcycle, including mirrors, lights, and helmets, among others, if they are to be ridden on public streets.
Notably, unlike motorcycles, mopeds do not have to have turn signals under the law in Las Vegas. Other off-highway motor vehicles with small engines are usually not allowed on public streets.
Electric Scooter Laws Las Vegas
With an increase in electric moped riders in the United States, electric moped laws have become necessary. The National Association of City Transportation Officials estimated that in 2018 there were up to 38.5 million trips on scooters across the United States.
Unfortunately, the rapid growth of electric moped riders has resulted in the law struggling to keep up in most jurisdictions across the country. Still, Nevada moped drivers and pedestrians are lucky to have well-documented laws governing the use of mopeds in the state.
While a moped might look pretty harmless, it can cause injuries if it gets in a crash. At the Fonbuena Law Firm, we have a lot of experience working on such cases.
If a Nevada moped driver has injured you, we may be able to help you get the compensation you deserve, as, over the years, we have worked on numerous personal injury cases. Our pedestrian accident attorney may provide an initial free consultation and provide the legal advice you need on your case.
Are There Scooters in Las Vegas?
There are many electric scooters on the roads of Las Vegas, which is why the Nevada Department of Motor Vehicles has introduced scooter regulations in recent times.
While there are many regulations and laws governing the use of scooters in Las Vegas, accidents are widespread when it comes to scooters. It is not uncommon to hear of riders being struck by trucks and cars in serious collisions.
In a recent study by the CDC,  there are 14.3 scooter injuries in every 100,000 scooter trips. While many of these injuries are minor, some can be severe.
If you have been injured in a scooter accident, you need to contact skilled and experienced personal injury lawyers. We have you covered at the Fonbuena Law Firm, whether you are looking for a pedestrian accident attorney or a general personal injury lawyer.
We have helped many clients in Las Vegas who have been in scooter accidents and may just do the same for you.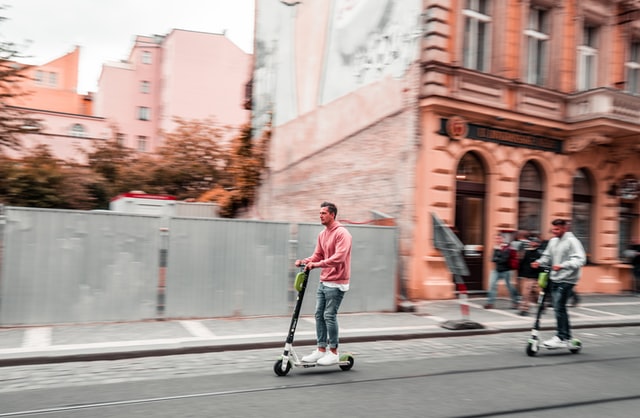 What's the Law on Electric Scooters & Mopeds?
There were few laws to govern electric scooters when they first started being used all over Nevada. Because of this, the motor scooter was often used irresponsibly, and many cities banned these vehicles rather than make moped laws.
In 2019 Nevada signed AB485 into law to regulate the use of electric scooters in Nevada. According to the law, every electric scooter:
Must go at a speed no more than 20 mph.
Is exempt from DMV licensing and registration.
Must be ridden by a rider that is at least 16 years old.
Notably, local governments are allowed to continue to make regulations to govern the operation of the electric scooter on the public highways in the state of Nevada.
Requirements on Scooter Licenses
If you are moving to Nevada from any other state, Nevada allows you to transfer Class M and other motorbike endorsements. If you do not have a valid driver's license for your electric bicycle or Nevada moped, you can apply for a Class M license. 
Class A, B, C, and M are typically listed on the same license in Nevada. 
If you have an existing Nevada license, you can add a Class M endorsement by taking DMV motorbike skills and written tests or completing another approved course. 
For riders under the age of eighteen, there are several requirements such as having a permit, attending minimum hours of skills training, and permission from a parent or guardian.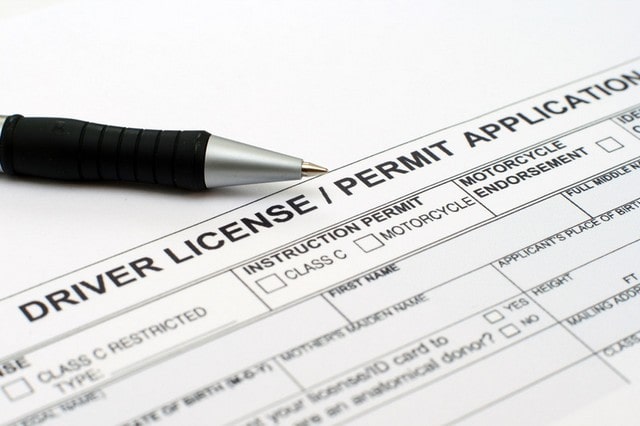 Do Mopeds Require a License?
According to the law, while a moped is similar to a motor-driven cycle, driving your electric scooter on Nevada public highways does not need a motorcycle license. Nonetheless, riders of motor scooters still need to have a driver's license that allows them to drive a similar vehicle. 
As such, if you are a teen with only an instruction permit and no license, you are not allowed to ride a moped on the public street even if it is properly equipped. Under state regulations, a rider can operate a moped and legally ride as long as they are at a minimum age of 15 and have a driving license.
If you have been involved in a moped accident, contact the Fonbuena Law Firm today. We have an experienced and skilled personal injury lawyer that may be able to help you get the compensation you deserve. 
We provide a free consultation and have a good understanding of mopeds and electric scooter laws in the state and may help you get justice in your case. 
Scooter Registration Requirements
Since January 2017, moped registration in Nevada has been mandatory to ensure that the moped meets the safety standards set. It is not legally permitted to ride on public highways without vehicle registration. 
Unlike motorcycles, you only have to register an electric scooter once. If you are doing a new registration or transfer of ownership, you will require a new moped inspection. You can usually get the inspection at the State of Nevada DMV facility or, if not, at the sheriff's office in your county.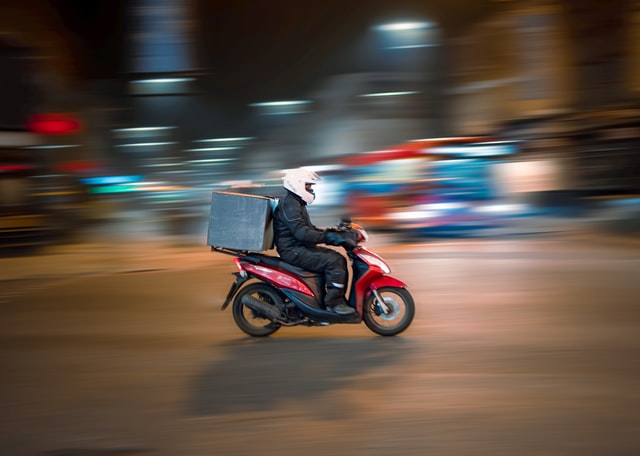 How to Register a Scooter in Nevada
Nevada requires that you register your electric scooter before you can be legally allowed to ride on public highways. To complete your registration, you need to:
Bring the electric scooter to the DMV office or at the sheriff's office for inspection.
The inspection establishes the vehicle identification number and whether it meets the definition of a moped. If it is determined to be a moped, the owner will need to comply with Nevada law on electric scooters.
You will usually have to bring all the paperwork for your electric scooter if you purchased it from a dealer.
Pay registration fees, including governmental services taxes based on license plate fees, vehicle value, and other miscellaneous costs. 
The DMV will typically provide one with a title if the vehicle meets the requirements for registration. 
Note that registration will usually have to be done at the DMV or sheriff's office in person. 
You will usually not need to wear a helmet if you are riding a moped.
Many mopeds in Las Vegas do not follow the laws and do not have their papers in order. If you have been hit and hurt in a moped accident, you need to contact personal injury lawyers with the training and experience to fight for you. 
At the Fonbuena Law Firm, our personal injury lawyers may be able to help you fight for the compensation you deserve from the rider that caused your injury. We have been working on similar cases for years and have accumulated a lot of experience over the years that we may put to use on your case. 
Requirements for Scooter Registration
To pass state safety inspection checks, electric scooters in Nevada need to have:
Handlebars: These should not be higher than the rider's shoulder while they are seated.
Fenders: Should be fitted on both wheels to avoid dirt and debris being thrown at the rider
Headlights: The scooter needs to have at least one headlight, which should not be mounted higher than 54 inches nor lower than 24 inches from a flat surface when the rider is seated on the scooter. 
Tail Lights: Every scooter needs to have at least one tail light visible from 500 feet away. 
Brake Lights and Functioning Brakes: The moped needs functional brake lights and brakes. The lights need to shine a yellow, amber, or red light visible from 300 feet away when the rider applies the brakes in daylight. 
Reflectors: Should have a reflector fitted on the motorbike's rear at a height between 60 and 20 inches off the ground. The reflectors also need to be visible from at least 300 feet away.
Horn: It needs to be audible from at least 200 feet away.
Mirrors: Every motorbike needs to have a rearview mirror on each handlebar to provide a view of up to 200 feet of highway. 
Tires: Must meet the minimum safety regulations by displaying the U.S. DOT number
Muffler: Each bike needs to have a muffler.
If you or a loved one has been involved in a scooter or moped accident, you should contact the law office of the Fonbuena Law Firm. We provide an initial free consultation to discuss your legal options and offer advice on the appropriate course of action to take. 
We have helped many clients in Las Vegas claim compensation for their moped accidents, and we may just do the same for you. Contact us today, and our personal injury lawyers may help you recover the compensation you deserve.